Accomplishments
To date, WWMP has successfully mentored more that 700 Wounded Warriors and helped them transition to new, successful lives. Here are a few of their stories.
Severely Wounded Army CPT Patrick Horan and Wife Move into Home Renovated by Volunteers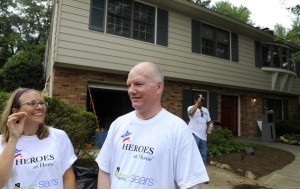 CPT Patrick J. Horan is a WWMP mentee. His WWMP Mentor got him into the "The University Center for the Development of Language and Literacy (UCLL)" at the University of Michigan despite TRICARE objection (got a TRICARE waiver). ALSO, got him into the "Defense and Veterans Brain Injury Consortium (DVBIC). Read more >>>
Wounded Warrior Brian Pearce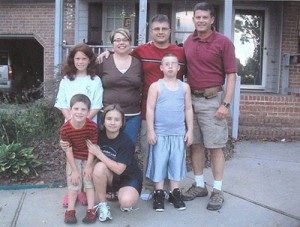 Brian Pearce and George Nyfeler are the first pairing in the West Point Society of Richmond's Wounded Warrior Mentorship Program. Nyfeler is the mentor; Pearce the wounded warrior, having been severely injured in 2006 by a roadside bomb in Iraq. Before their first meeting Brian Pearce and George Nyfeler were nervous. Read more >>>
Wounded Warrior Tim Fallon
1LT Timothy E. Fallon, USMC (Retired) is an outstanding example of a young highly motivated Marine officer, who is an inspiration to all who have the pleasure to know him. In November 2010, during the fourth month of Tim's tour in Helmand Province, Afghanistan, he was conducting a night patrol and was hit by an Improvised Explosive Device (IED). The explosion took the sight of both eyes and caused multiple shrapnel wounds. The next thing Tim knew he was in Walter Reed Army Medical Center, Washington, DC undergoing treatment to attempt to restore some eyesight and heal his other wounds. By Early December he had experienced three operations on his eyes which managed to save them from total destruction. To this day, he is legally blind and can only see vague shapes and shadows.  Tim came to the attention of the Wounded Warrior Mentor Program and Ned Rupp was asked to be his mentor in early 2011.  Read more >>>
Four years ago, after losing much of his sight in an IED explosion in Afghanistan Timothy Fallon learned about Bookshare at the Central Blind Rehabilitation Center at Edward Hines, Jr. VA Hospital.  "The online library helps me to stay current on in-depth issues and research for my profession," says Tim Fallon.  Read more about this > > >
Wounded Warrior Success Stories
Stories about Wounded Warrior who benefited from the WWMP.
Wounded Warrior Success Stories