CPT Patrick Horan and Wife
Severely Wounded Army CPT Patrick Horan and Wife Move into Home Renovated by Volunteers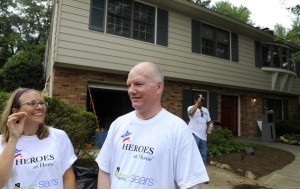 CPT Patrick J. Horan is a WWMP mentee. His WWMP Mentor got him into the "The University Center for the Development of Language and Literacy (UCLL)" at the University of Michigan despite TRICARE objection (got a TRICARE waiver). It offers intensive language and literacy evaluations and intervention services for adults with brain injury and children, youth, and young adults with language and language-related disorders. UCLL has been providing language and literacy services to individuals of all ages for over 60 years. In 2007, we celebrated the 60th anniversary of our University of Michigan Aphasia Program (UMAP). The Center is one of the original programs in communication disorders in the United States and continues to be a leader in expanding the scientific knowledge base of language, literacy, and language-learning disorders through its vital research program.
ALSO, got him into the "Defense and Veterans Brain Injury Consortium (DVBIC)-Charlottesville, Charlottesville, VA" AND provided Patrick & Patty with a "turn-key" vegetable garden
The Washington Poart By Tom Jackman Published: July 24
To call Army Capt. Patrick Horan's journey from Baghdad to a new home in McLean "long and arduous" would be a massive understatement. After being shot in the head during a mission in July 2007, he underwent brain surgeries and endless rehabilitation, relearned how to walk and talk, and traveled the country seeing various specialists.
But there he was Tuesday morning, emerging to a standing ovation from the volunteers who renovated his home, holding up his iPhone and taking his own photos of an emotional unveiling ceremony along Old Dominion Drive. His wife, Patty, who accompanied Horan on every halting step of the past five years, glowed with joy.
The two-story house now has an elevator, an enlarged handicapped-accessible bathroom, railings and wider doorways, to make it easier for Horan, who walks with a brace. The house also has an improved deck, and a freshly mulched and weeded front and back yard.
"It's amazing," Patty Horan said. "It's been a long journey, and this is a huge day of celebration. They removed half of his skull, part of the left side of his brain. There are fragments that remain lodged in his head. We didn't know if he could speak or walk again. In the beginning, there was little to no hope."
Patrick Horan leaned into the microphone, grinned and said, "That's what they told me."
It came together through a program for wounded veterans sponsored by Sears — "Heroes at Home," which has helped rebuild homes for more than 1,000 veterans since 2007. Sears worked with Rebuilding Together, a national nonprofit group that helps older and low-income people repair and stay in their homes.
Rebuilding Together — its Arlington/Fairfax/Falls Church and Montgomery County chapters, particularly — lined up local contractors to provide free or reduced-price services for the Horan house. Nationally, the group helps repair 10,000 houses a year with the help of 200,000 volunteers, said Susan Hawfield, executive director of the Montgomery chapter.
With much of Horan's rehabilitation taking place at Walter Reed National Military Medical Center in Bethesda, he and his wife had looked for a home in Montgomery County. But after being outbid for a house there, they turned to Northern Virginia, where they found a four-bedroom home and bought it in February. They have a service dog now: Wilson.
Old stamping grounds
The couple has roots in Northern Virginia. Horan, 39, is the son of retired Fairfax County General District Court Judge Richard Horan, and he grew up in Springfield and graduated from West Springfield High School. Patty Horan lived in McLean until she was 12, attended Kent Gardens Elementary School, then moved with her family to Richmond.
They attended Radford University, where Patrick played rugby and helped launch a women's rugby team. That's where they met, when Patty joined the women's team. Patrick entered the Army after graduation in 1997, and he and Patty married in 2000.
After several years at Fort Lewis, Wash., and in Hawaii, Horan entered Officer Candidate School, was returned to Fort Lewis and was deployed to Iraq in 2006. On July 7, 2007, he was in Baghdad, working night missions to secure the streets, when he was struck by a sniper's bullet. It went past his left ear, under his helmet and exploded when it hit his skull.
He said he was conscious for about 10 minutes, not clear that he'd been hit, and then rushed to a couple of field hospitals before being quickly flown out of Iraq. Within 48 hours, he was in Bethesda.
"I wouldn't have lived" if he hadn't been operated on promptly, Horan said. Surgeons removed his left temporal lobe and half his skull to allow his brain to swell to avoid further internal injuries.
Richard Horan remembered walking in and seeing his son connected to various tubes and machines. "He was a cadaver,"Richard Horan said. "They sent his Purple Heart with him because they thought he wasn't going to make it."
He made it. But he was silent. It took a year for him to develop a vocabulary of 50 words, and more than two years before he could hold a conversation.
"I was out of it," he recalled. He said that doctors told his wife to play music to stimulate his brain. "U2 — a lot of U2,"he said. "Bruce Springsteen. Red Hot Chili Peppers. 10,000 Maniacs. Outkast. I was into rap then."
Patty Horan aggressively sought treatment while the Army dawdled, her mother and father-in-law said. A Washington Post series on conditions at Walter Reed helped loosen the strings to allow treatment at private facilities, Richard Horan said.
Traveling to therapy
Patrick was moved to Chicago for physical therapy, then spent a year in a clinic near Los Angeles, then back to Walter Reed, to Michigan, Walter Reed, New York, Alabama and most recently Charlottesville, learning skills necessary for everyday life.
While he was in the Casa Colina Clinic near Los Angeles, he met the actress and then-talk show host Bonnie Hunt. The couple appeared on the "Bonnie Hunt Show" in November 2008, although Horan said he stumbled through answers, if he spoke at all. But at the end of the show, Hunt presented them with a renovation commitment from the Heroes at Home program, which they held onto until this year, when they finally got a house.
"It's something I never thought I'd see,"Patty Horan said. "We made it. We've weathered the storm. We're home."
Patrick Horan said his wife had been e-mailing him photos of the renovation while he was in Charlottesville, and it was only Monday that he saw the finished product. "I was like, 'Wow, that's incredible.' It's gonna be nice."