WRNMMC
Walter Reed National Military Medical Center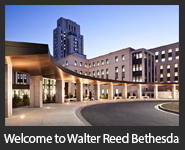 Walter Reed National Military Medical Center is the Nation's Medical Center, proudly serving military beneficiaries in the Washington, D.C. area as well as those from across the country and around the globe. As the largest military medical center in the U.S., we are a tertiary care destination providing services in over 100 clinics and specialties. We are proud to be known as the first destination in the continental United States for caring for the wounded, ill and injured from global conflicts.
Walter Reed National Military Medical Center (WRNMMC) was established on November 10, 2011, as a result of the Base Realignment and Closure Act, which consolidated National Naval Medical Center and Walter Reed Army Medical Center on the grounds of the former NNMC campus in Bethesda, Maryland. The Medical Center combines the proud history and commitment to excellence of these two great Navy and Army medicine icons. WRNMMC combines 170 years of providing outstanding compassionate care to war heroes and presidents alike.
Ft Belvoir
Ft Belvoir Community Hospital
Fort Belvoir Community Hospital is a joint-service healthcare network providing world-class medical care to the nation's wounded, active-duty service members, retirees and family members. The hospital is designed to increase inpatient and outpatient care for service members and Veterans in the National Capital Region. As a medical community providing healthcare to beneficiaries throughout the National Capital Medical Region, the guiding principles that drive us to deliver safe, quality and compassionate care are a Culture of Excellence, Patient- and Family-Centered Care and Evidence-Based Design.
Ft Meade
Kimbrough Ambulatory Care Center at Ft Meade

Welcome to Kimbrough Ambulatory Care Center, the U.S. Army Health Center located at Fort George G. Meade, Maryland. We are conveniently located about midway between Baltimore and Washington D.C. with easy access from I-95 or 295 (Baltimore-Washington Parkway) via routes 32 or 175 (Map). Kimbrough is a freestanding ambulatory and same-day surgical center that serves more than 50,000 beneficiaries on and around Fort Meade.
Kimbrough is the headquarters of the U.S. Army Medical Department Activity (MEDDAC), Fort George G. Meade, which also includes a number of U.S. Army health clinics, occupational health clinics, and environmental health clinics at several other installations in Maryland, Virginia and District of Columbia.
Kimbrough provides primary care, selected specialty care and same day surgery for TRICARE Prime patients, Monday through Friday between 7:30 a.m. and 4:00 p.m.
Since Kimbrough is not a hospital, emergency services are not available at Kimbrough. Persons who require an emergency room are advised to go to the closest military or civilian hospital. Dial 911 for emergencies.