Medical Benefits
The Center for the Intrepid

The Center for the Intrepid is a rehabilitation facility to treat amputees and burn victims. It is located next to the Brooke Army Medical Center at Fort Sam Houston in San Antonio, Texas. It was specifically built to provide care for United States service members who have served in military operations in the Iraq War and the War in Afghanistan. Veterans from previous conflicts are also eligible to receive treatment as well as other military personnel who have sustained injuries in other operations, training exercises, or in non-combat situations.
Community Based Health Care Organizations
The Community Based Health Care Organizations (CBHCO) were designed for National Guard and Reserve Soldiers mobilized on 10 USC §12302 orders in support of contingency operations, and diverted from their normal mobilization mission or demobilization processing, or medically evacuated (MEDEVAC) from theater, who are in need of medical evaluation, treatment, and disposition, including definitive health care, for medical conditions identified, incurred, or aggravated while in an active duty (AD) status.
DoD/VA Center to Improve Eye Care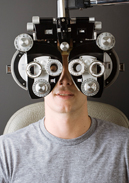 The Vision Center of Excellence (VCE) was formed to track eye injuries emanating from the war theater and improve treatment outcomes across the services and VA. VCE is facilitating collaborative efforts that support optimal DoD/VA vision care transition, such as a process developed at Walter Reed Army Medical Center for blind rehabilitation care. The need for the VCE is evidenced in the variety of injuries that impact soldiers' vision, from traumatic eye injury as a result of explosive devices and projectiles, to vision disorders associated with TBI, and eye injury caused by exposure to chemicals, biohazards, lasers or extreme environmental conditions.
TRICARE Management Activity and the Military Health System
TRICARE Management Activity, the Defense Department activity that administers the health care plan for the uniformed services, retirees and their families, serves more than 9.4 million eligible beneficiaries worldwide in the Military Health System (MHS).
The mission of the www.health.mil. is to enhance Department of Defense and national security by providing health support for the full range of military operations. The MHS provides quality medical care through a network of providers, military treatment facilities, medical clinics and dental clinics worldwide. For more about the MHS go to Military Health System (MHS).
TRICARE and VA Work Together
There are many programs available through TRICARE and the VA. The armed services and TRICARE's regional contractors support Veterans who became ill or were injured serving on active duty.  Veterans can learn about the different financial responsibilities for TRICARE-covered services and VA benefits by contacting their TRICARE regional contractor, or VA Health Benefits Service Center at 877-222-VETS.
TRICARE and TRICARE For Life Information Websites
This web page provides links to web sites with information about TRICARE and TRICARE For Life which may be of interest to active duty and retired military members, reservists, veterans, family members and other interested personnel.
DoD Computer/Electronic Accommodations Program (CAP)
CAP works closely with wounded service members across the nation to ensure they receive appropriate accommodations and support services for their needs by introducing assistive technology during recovery and rehabilitation at MTFs.
VA Health Care and the Affordable Care Act
For information about VA health care and the Affordable Care Act, VA encourages Veterans and family members to visit the new website at www.va.gov/aca, or call 1-877-222-VETS (8387), Monday through Friday from 8 a.m. to 10 p.m. or Saturdays from 11a.m. to 3 p.m., Eastern time. The new website includes a Health Benefits Explorer, where Veterans can learn about the benefits they can receive if they enroll in VA care.