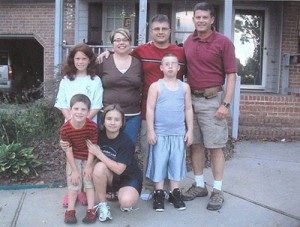 Brian Pearce and George Nyfeler are the first pairing in the West Point Society of Richmond's Wounded Warrior Mentorship Program. Nyfeler is the mentor; Pearce the wounded warrior, having been severely injured in 2006 by a roadside bomb in Iraq. Before their first meeting Brian Pearce and George Nyfeler were nervous.
"I didn't really know what we were going to get into," Pearce said.
"We probably both had butterflies in our stomachs," Nyfeler said.
They needn't have worried. They hit it off big time, sharing stories about their time in the military and just about everything else.
"It took a long time to get our stories out, and on about the fourth visit I said, 'We need to take 10 minutes at the end and jot down some potential goals,'" Nyfeler recalled with a laugh, goal-setting being one of the reasons they were getting together.
The program is a local version of a program started four years ago in Washington by alumni of the U.S. Military Academy. Local West Point alums formed their own program to serve Richmond-area veterans — primarily wounded warriors who have served in Iraq and Afghanistan, but also any veteran from any period whether they've served in combat or not, said Scott Landry, coordinator of the local program.
The idea, simply, is to help on a one-on-one basis — whether it be to assist the veteran's transition back into the work force, or, if the vet is too severely injured to work full time, to serve as a friend and advocate.
"Either way," Landry said, "we believe it makes a big difference."
The program has no shortage of mentors. The dilemma, Landry said, is getting the word out to veterans.
"Unfortunately, the guys we're targeting are probably the more apprehensive to be willing to reach out for support," Landry said.
Pearce, 39, an Army staff sergeant who suffered brain injuries as well as damage to his sight and hearing, said he wasn't particularly apprehensive about participating in the program. He just wasn't sure what he and Nyfeler would do.
"But every week we come up with something new to get into," said Pearce, who lives in Mechanicsville with his wife, Angie, and their two children. "That's the fun part."
Pearce has been home full time since October, when he was released from the polytrauma rehabilitation center at McGuire Veterans Affairs Medical Center, where he and Nyfeler held their first meeting. Since then, they've gotten together in a variety of settings, including a target range, which might seem an odd place for them to meet. Except both men have extensive shooting backgrounds — Nyfeler from 32 years of competition, including three years on the West Point rifle team, and Pearce from his years as an Army Ranger.
With Nyfeler coaching, Pearce used a rifle in November for the first time in three years. He hit the target.
"I realized right away I hadn't forgotten anything," Pearce said of the target practice. "That George was right there was very comforting."
Pearce is looking forward to taking college courses and wants to volunteer at the medical center. Nyfeler is looking forward to helping and encouraging him.
Nyfeler, who manages a local civil engineering office and whose military service came during peacetime, considers it a privilege to be a part of Pearce's life. Nyfeler also sees this as a way to honor his own father, a wounded warrior from the Vietnam era.
And how does Pearce view Nyfeler?
"As a friend," Pearce said. "I hope he views me as a friend, too."
He does.
© 2013 Richmond Times Dispatch. All rights reserved.